ToThePoint

BusinessMassage
BUSINESSMASSAGE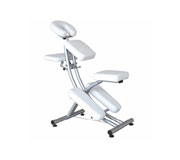 Before starting with the first massage, I always ask the client about his or her physical and mental history, complaints, expectations and wishes.
The massage itself takes about 15-minutes and is followed by a short evaluation and – if necessary - suggestions for simple exercises or stretches.
I am prepared to give massages in company for at least two hours, and not more than five hours a day (this means a massage for 6-15 persons). I bring with me my own equipment: a massage-chair.
The only thing I need from you, as a company, is:
a short list with the names in sequence of the clients who have an appointment with me that day
the clients have to be in time (a minute or two before the actual appointment), so I know I can finish the treatment just before the arrival of the next client.
I use different massage-techniques, like classical massage, hand- and footreflexology, shiatsu or pressure-point massage. In my private practice I also use hot-stone massage.
My price is € 59,95 per hour, exclusive tax (btw).
At the end of each month I send out my invoices to the companies I work for, by mail or e-mail. Further information and prices on request.

References