ToThePoint

BusinessMassage
ABOUT ME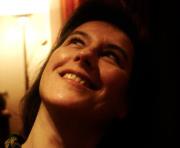 My name is Cecile Wiewel, I am a massage-therapist. I graduated at the Leffelaar Academy (now the Veerman College, 020 6642437). Since then I work with small and medium-size companies and at my own practice for private persons and for one-person-companies.
In 1982 I graduated from the Nel Roos Ballet Academy; in the eighties and nineties I traveled a lot, and worked as a dancer and ballet-teacher. Back in the Netherlands I worked with kids in dancing lessons, but also at primary schools with children who needed special care and attention.
My current clients are mostly people who are conscious of their own body and care about their own health. Sometimes they do have serious medical problems, and I help them with my massages to improve their physical, mental and emotional condition.
Through the bodywork I do, I support people in getting in touch with themselves, their feelings, by first feeling their body and from there to their mental and emotional world. Sounds maybe a bit complicated, but I believe it's a matter of experiencing it.